New Patient Center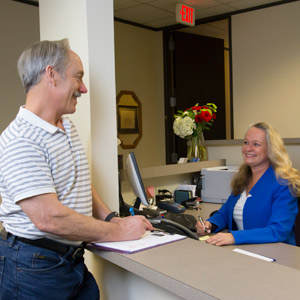 Welcome to Family Chiropractic Center! Our warm and friendly atmosphere is the ideal place to begin your journey toward health and healing. You'll be welcomed by our receptionist who enjoys getting to know all of our patients. Here, you're never a number, but part of our family.
The First Visit
Please wear comfortable clothes that allow full movement. Tight jeans and short skirts should be avoided. Your chiropractor will review your history with you. He'll ask about what's happened with your health, especially the area of complaint that has brought you in. Here's what you can expect next:
An examination that will check things like posture and range of motion.
Muscle strength, orthopedic, and neurologic testing.
Financial issues, including insurance coverage.
Please allow a little over an hour for your first visit.

---
The Second Visit
During the second visit, we will review important issues through a report of findings. Your chiropractor will provide treatment options and formulate a treatment plan with you for your care. Your care plan will be tailored to your needs and health goals. This visit takes about 15-20 minutes.
Follow-up Appointments
Follow-up visits are approximately 15 minutes. They consist of re-testing positive exam findings and providing specific treatment to support your body in its healing process. We use a variety of chiropractic and natural healing techniques that allow us to customize our care to each individual's needs and preferences. We will provide lifestyle and home care options such as exercises, dietary changes and nutritional supplements. Periodic re-evaluations will be performed to confirm we are fully addressing your needs.
Do I Have to Go for the Rest of My Life?
The answer is no; you can come in as much or as little as you want depending on what your goals are. We use chiropractic as a way to stay healthy and get adjusted on a regular basis to maintain wellness. If you are interested in using chiropractic to get out of pain, you're welcome here of course. Lifetime care is never mandatory, but many of our patients do come in on a regular basis to enjoy the benefits that go with it.
Experience the many advantages that come with living a chiropractic lifestyle. Book an appointment today!
---
New Patient Center | (512) 347-8033